The workshop "
Improving soil health in sustainable agriculture
" is an activity organized by the
Center for Rural Economy Development
– Biotrade SECO Project in collaboration with partners,
the Vietnam Pepper and Spices Association (VPSA)
,
Eurofin Sac Ky Hai Dang
and
Son Ha Spice and Flavoring Co.,Ltd
. This is a specialism activity that attracts the attention of not only agro-forestry producers but also specialized experts in Vietnam as welll as foreign organizations and universities such as
UEBT
,
Prefer by Nature
,
Center for Nature Conservation and Development (CCD)
, the
Regional Research and Development Institute (IRRD)
, the
Plant Protection Institute (PPI)
, the Vietnam Rural Development Science Association,
the Northern Mountainous Agriculture and Forestry Science Institute (NOMAFSI)
,
the Vietnam National Forestry University (VNUF)
, the
University of Sciences Vietnam National University Hanoi
, the Vietnam Soil Science Association, the Research Center for Fertilizers and Plant Nutrients…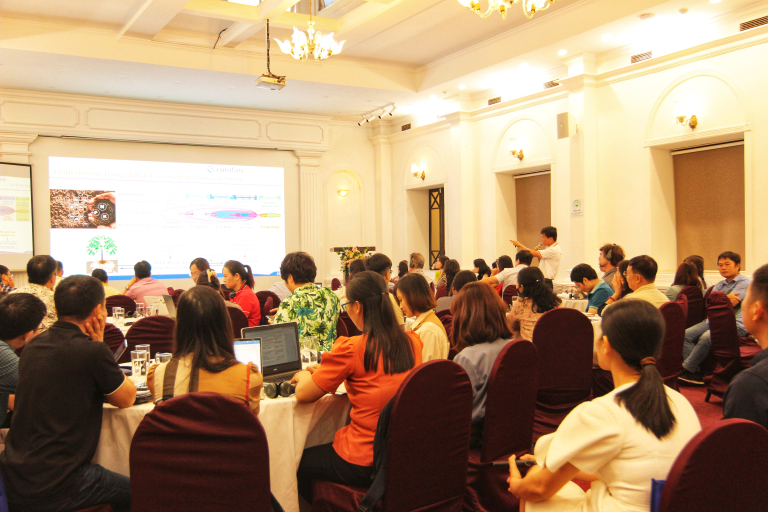 More than 80 participants in the workshop received specialism informations on soil enrichment methods from experts and agro-forestry producers in the Q&A and comments section beside the presentations of the speakers Dr. Nguyen Quang Chon – Eurofins Sac Ky Hai Dang on the topic Managing Nutrients in the Soil in Sustainable Agriculture; Dr. Nguyen Minh Hung – Soil and Fertilize Institute on the topic The role of organic matter in the Health of Agriculture soil & Measures to Reduce Soil Pollution; Soil microbiology expert Ehren Garner – Australian National University – with topic  The role of soil microbiology in maintaining soil health and nutrient cycling.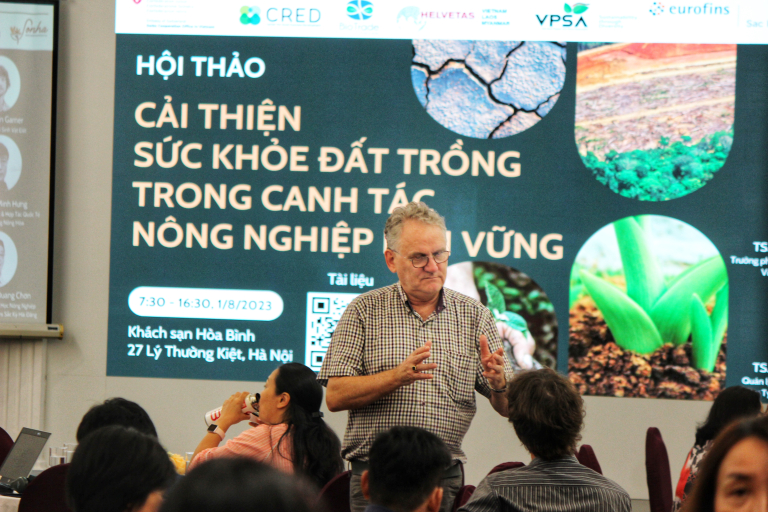 In workshop, soil management planning and methods for collection soil sample and evaluating the results of soil analysis have also been introduced and guided to the participating agro-forestry producers by experts.
Appreciating the workshop, the participants thanked the role of CRED in networking between experts and producers, and agreed that this is a specialised activity that should be held regularly and in different localities to spread the knowledge on improving soil health to more producers, contribution to promoting sustainable agricultural practices in Vietnam.
After the workshop, expert Ehren Garner and Biotrade technical team came to investigate the soil of the material source areas in Cao Bang of 2 businesses in the Biotrade network, namely Hat Duong World Joint Stock Company. (Hanuti JSC) and Dace Farm. It aims to build a pilot model of sustainable farming on healthy, nutrient-rich soil for businesses.
The Biotrade SECO project phase 2 is funded by the Swiss State Secretariat for Economic Affairs (SECO), co-implemented by the CRED and Helvetas from 2020 to support Vietnam businesses in natural ingredients sector produce sustainable products and exports to global markets according to international standards.