Phong Nam is a commune of Trung Khanh district in Cao Bang province. The commune has a habitat conservation area that has the goal of preserving the rare Cao-vit black crested gibbon in both Phong Nam and Ngoc Khe communes. Local farmers of Phong Nam commune have been growing corn for many generations despite the fact that planting corn does not bring high economic efficiency.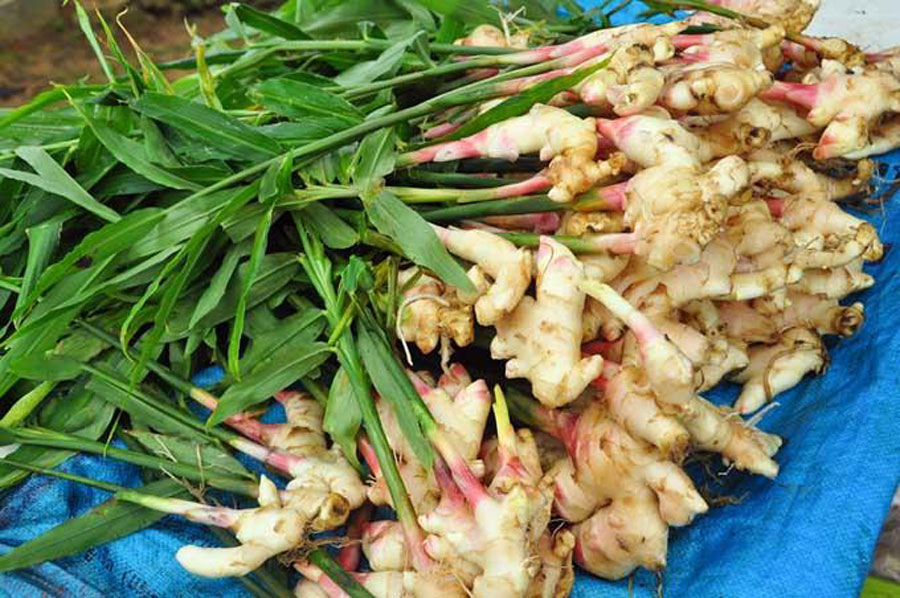 Meanwhile, cornfields are the main food source for Cao-vit black crested gibbon, especially in villages near the habitat. The people of these villages have suffered significant economic losses as a result of this. Therefore, the Cao Vit gibbon is at high risk of being hunted.
Growing organic ginger brings high economic efficiency as well as environmental protection. Therefore, in recent years, organic ginger farming has become popular in Cao Bang, reducing the reliance on forest livelihoods. With the goal of introducing a sustainable ginger farming model to the people of Phong Nam commune, the Regional Biotrade Project – phase II (Biotrade SECO) collaborated with DACE Co., LTD (DACE Farm), and the FFI organization held a field workshop on December 8, 2021.
During the workshop, a group of farmers from Phong Nam commune, Trung Khanh district, Cao Bang province were introduced to the ginger farming model currently being implemented in Noi Thon commune, Ha Quang district. They also learned about cooperation and purchasing mechanisms with representatives of DACE. After the workshop, farmers in Phong Nam commune gained preliminary knowledge of the techniques and the economic efficiency of sustainable ginger farming. They expressed their wish to support participation in the model. BioTrade SECO project, FFI organization and DACE company committed to accompanying farmers in the next steps of implementing the model. The Regional Biotrade Project – phase II (Biotrade SECO) is funded by State Secretariat for Economic Affairs – SECO and implemented by CRED – the Vietnam component is supporting businesses to export sustainable products in the natural ingredients industry in Vietnam.